Message from Chairperson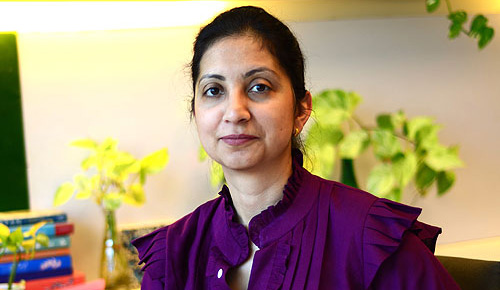 Welcome to the Department of Social Sciences and Liberal Arts (SSLA). We are one of the youngest departments at IBA but have already made our mark both on campus and outside it.
The department offers a four-year inter-disciplinary degree program at the undergraduate level which is notable for the rigorous breadth as well as depth it offers. Our students complete a core curriculum in their first two years in the program, which is rooted in the Liberal Arts tradition and allows them to take courses across a range of fields such as Social and Cultural Anthropology, Philosophy, Sociology, Urban Studies, English Writing and Rhetoric, Intellectual and South Asian History, Quantitative Reasoning, and two semesters of a Foreign Language.
In their third and fourth year, students focus their attention on one discipline: Media and Culture, Political Science, Psychology, or History. They take core and elective courses in their chosen major, and also take elective courses in Visual Studies, Natural Sciences, and Humanities. Thus the program emphasizes a certain structure and sequence of courses, but combines it with enough flexibility that each student is able to develop their areas of interest and expertise. The courses are designed to help develop increasingly more complex critical thinking, analytical, and creative problem-solving skills. The final year brings together all this learning in the form of a ten-credit culminating project where each student designs and carries out her or his own research on a compelling intellectual question or problem.
The department boasts more than twenty full-time faculty with Social Science and Humanities training from some of the best universities around the world, who work closely with each student to provide mentorship and academic guidance. We are also aided in our teaching and advisory mission by a number of excellent visiting and adjunct faculty, all of them experts in their fields. Social Science courses offered by our department are increasingly popular among students in other undergraduate programs across IBA, who find them to be exciting, challenging and enriching electives.
The first few batches of students to graduate with our BS SSLA degree are doing very well. Some have received admission offers from the most competitive masters and doctoral programs across top international universities, while others have accepted job offers from various local and multinational organizations. It is very rewarding to see them emerge as critically enquiring, compassionate and responsible individuals who are grounded in our social, cultural and political contexts but are also able to appreciate the complexities of our increasingly inter-connected world. We look forward to welcoming many more of you to our department and to continuing our commitment to excellence as we move forward.
Dr. Sahar Nadeem Hamid
Chairperson, Department of Social Sciences and Liberal Arts